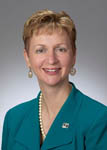 Joanne Hindel
Vice President & Regional Fiduciary ExecutiveVice President & Regional Fiduciary Executive OSBA Board Certified Specialist in Estate Planning, Trust and Probate Law
FIFTH THIRD BANK
Cleveland, Ohio
Speaker Bio
Joanne E. Hindel
Vice President & Regional Fiduciary Executive OSBA Board Certified Specialist in Estate Planning, Trust and Probate Law
FIFTH THIRD BANK
Cleveland, Ohio
Daniel E. Ramer
Vice President & Regional Fiduciary Executive
FIFTH THIRD BANK
Piqua, Ohio
We will first discuss the duty, and art, of exercising trustee discretion
to accomplish settlor intent, satisfy beneficial interests and fulfill fiduciary responsibilities. Then we will provide some recommendations for how to balance fiduciary loyalties to the settlor's wishes and loyalties to, and among, the trust beneficiaries. We will also examine the challenging topic of loans to beneficiaries of irrevocable trusts.
We will then discuss powers of appointment, including how to determine what is a "general" power for estate tax purposes, the increased emphasis on general powers and basis step-up in today's estate planning environment, and issues involved in determining whether a power has been effectively exercised.